Diving with reef sharks is one of those things that are on many diver's bucket list! But you may be a bit apprehensive about how you should act when you have a shark encounter.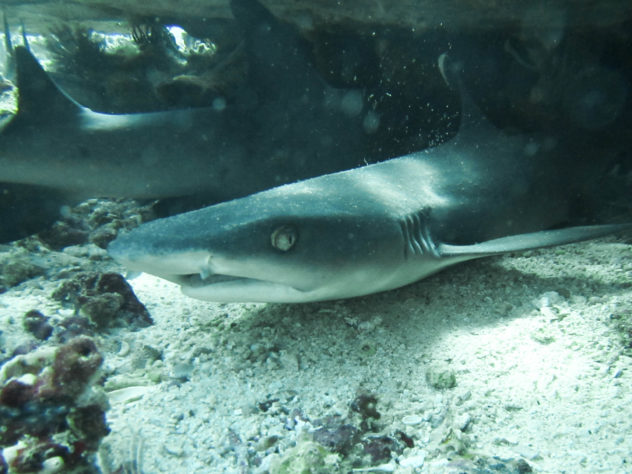 There are a few things that a responsible diver should do to help protect both yourself and the sharks. But no worries, there are only a few simple things that you need to do to make it the most enjoyable experience for you. 

This guide gives tells you what type of sharks you will find here in Komodo. We also talk about how to act and how to prepare yourself when you encounter a shark. Don't worry, this is an easy guide – swimming with sharks isn't scary. We guarantee that diving with sharks will be an amazing and unforgettable experience!

What Sharks Do You Find In Komodo?
Here in Komodo National Park, there are a few different types of sharks that you can find when on a dive. You may spot some white tip reef sharks, blacktip reef sharks, bamboo catfish sharks and grey reef sharks. Sounds pretty awesome right? 

Whitetip Reef Shark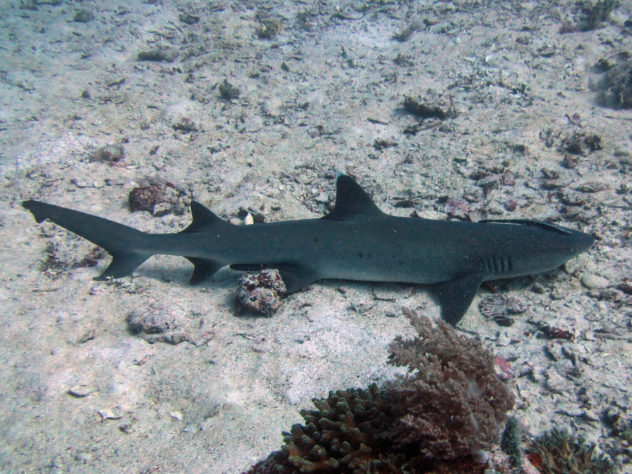 The whitetip reef sharks can be found in many dive sites across Komodo. In Komodo central locations you can find them in Siaba Besar, Siaba Kecil, Mawan, Tatawa Besar, Batu Bolong, Manta point and Pengah Kecil. The most popular hang out for these sharks are in the north of Komodo, either at Castle or Crystal Rock where at times, they can be spotted everywhere!

The whitetip reef shark is actually a nocturnal animal, so you will find them hunting at night. So don't worry, you're safe if you go diving with them during the day!

The average length that the whitetip reef shark can grow is 1.6 metres. The heaviest shark on record is said to be 18.3kg (wow!). The whitetip reef shark has also been living on this earth for around 42 million years! 

Blacktip Reef Shark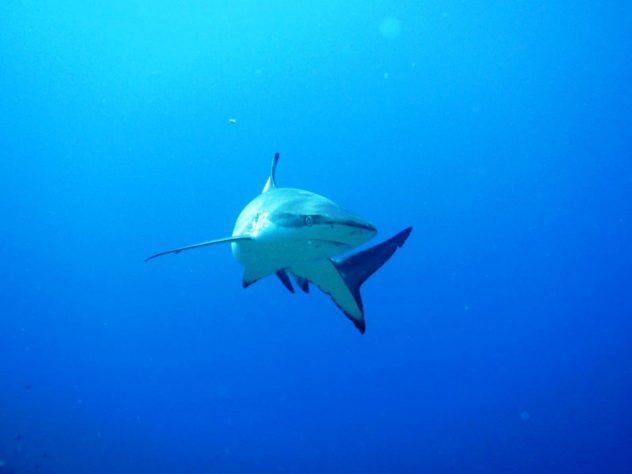 Blacktip reef sharks are found on fewer dive sites than the white tip here in Komodo. These sharks can be spotted at Tatawa Besar, Mawan, Manta Point and Cauldron. 

What's interesting about the blacktip reef shark is that they are quite shy creatures. So it's best to observe them from a distance and let them get close to you. You will find them here in the Indo-pacific in the shallow waters nearer the surface of reefs.

Bamboo Shark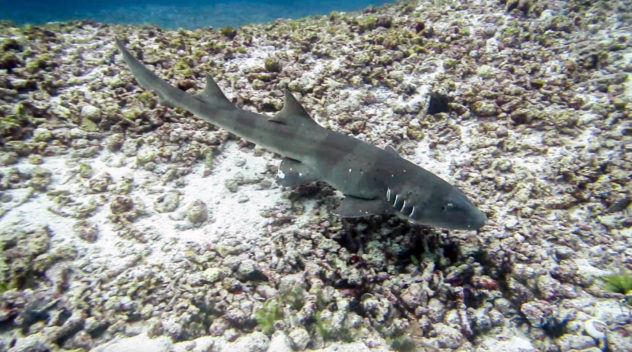 Bamboo sharks are only found in two dive sites of Komodo. You can spot them at Manta Point and Crystal Rock. 

The bamboo shark is a rare shark that are only found in the coastal areas of Indonesia. So if swimming with a bamboo shark is your dream, it's worth a visit to Komodo National Park! 

Grey Reef Shark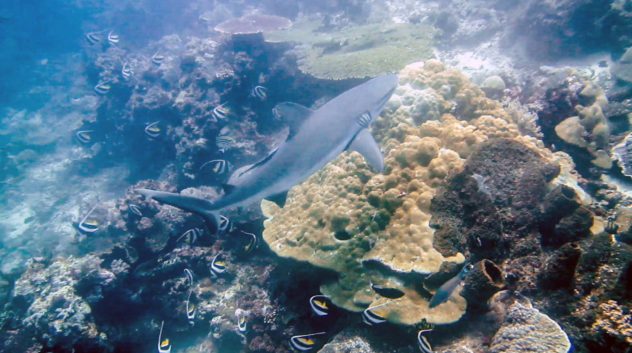 The grey reef shark is the biggest shark that you will come across in Komodo. Unless you are super lucky and we get some bigger sharks passing through! These sharks are spotted in the north of Komodo and either Castle or Crystal Rock. Although, these sharks have been spotted at Batu Bolong in Central Komodo, too. 

The appearance of a grey reef shark is an elongated body, rounded nose and large eyes. These sharks normally swim quite slowly but can reach speeds up to 25mph when it is hunting time!

How Do I Prepare Myself Before Swimming With Sharks? 
Before jumping into the water, there are a few things to remember. These tips will ensure your safety so you have the best possible experience when diving with the sharks. 

Do Your Research
Just as you are doing now, you should always do some research! Before you visit a dive site, it is good to know what sharks that you may encounter. This guide explains what you may expect from diving with sharks in Komodo. 

If you are visiting another dive spot, it is best to do some research. Different sharks have different behavioural patterns, so it is best to look up what sharks there are before visiting a new dive site.  

Another useful tip is that it would be beneficial if you ask your guide before you jump in the water. Your divemaster would have dived those dive sites many times, so they will know exactly what to expect before entering the ocean. In every briefing, they should explain all you need to know, so listening carefully to every briefing is a must. 

Avoid Wearing Brightly Coloured Clothing
If you are planning on going to a dive site that has sharks, it may not be the best idea to wear any bright colours. Studies have shown that sharks are attracted to bright colours. With this in mind, there are divers every day swimming with sharks wearing bright clothing. But it is best to stay on the safe side and wear toned down colours to avoid any unwanted attention. 

What Is The First Thing I Should Do When I Enter The Water?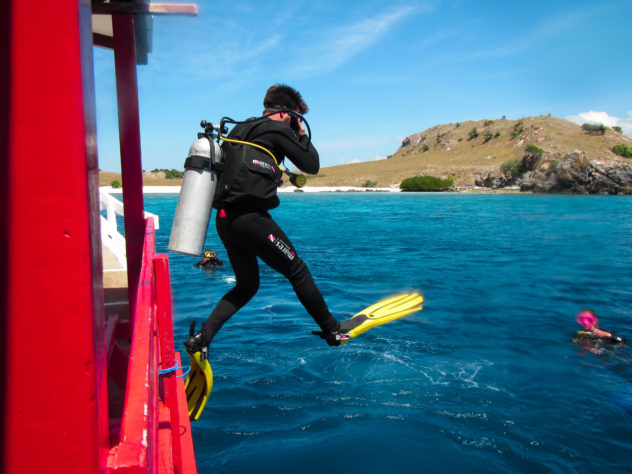 You're prepared and ready to dive with sharks, now it's the fun part. Lets go diving with sharks! But what is the first thing that you should do when you enter the water and you spot your first reef shark? 

Descend Quickly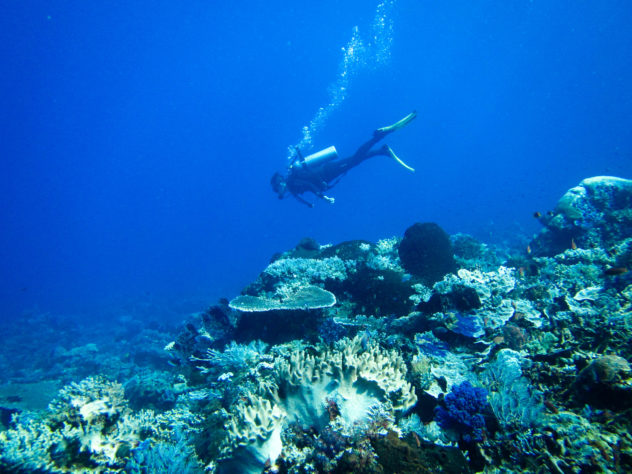 When you first hit the water it is always best to descend as quickly as possible. The purpose for this is that sharks are attracted to objects that float on the surface. Dead animals float on the surface so it gives sharks a signal that you are something to explore or that you are food. 

As soon as you enter the water and all your group is okay to descend it is always best to go down as soon as possible.

No Quick Movements
Spotted your first shark? That's awesome! Avoid making any fast movements or start swimming quickly towards the shark. This is because they may detect that you are a vulnerable fish in distress or another shark feeding. It's always best to stay calm and relax yourself to avoid a shark thinking that you are something that you are not. 

Don't Feed The Sharks 
This goes without saying, you should always avoid feeding the sharks. Doing this can cause a feeding frenzy which causes the sharks to get over excited and start to fight each other. Sharks start to bite anything that gets in its way which can include the divers that are observing or feeding the sharks. 

Buddy System
Every time you carry out a dive, you should always remember the buddy system. Always make sure that you stick with your buddy in case you encounter any problems. 

If you find yourself detached from your buddy when you are diving with sharks, it is always best to carry out the lost buddy procedure. This is where you ascend a few meters, look for your buddy for one minute and if you cannot find them, cancel the dive. 

Final Thoughts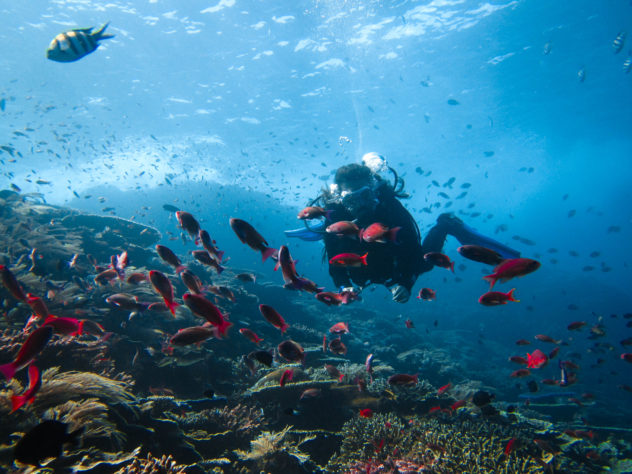 Diving with sharks is an incredible and unforgettable experience if you follow the lines of being a responsible diver. A good thing to remember is that sharks are not a threat if you follow these simple rules of diving with sharks. 

Komodo National Park is one of the top places to dive with sharks in Indonesia. So if diving with sharks is high on your bucket list, it's important that you pick an awesome location to do it in. Here at Flores Diving Centre, we offer daily boat trips to dive sites all across Komodo National Park. 

Before every dive, we give a thorough briefing to all our guests which explains what you may see at each dive site. We also explain what you should do when you encounter certain sea creatures. 

Visit our website to find out more information about what we offer and the dive sites that we visit in Komodo. Trust us, diving with sharks is not as scary as you may think. Sharks are beautiful creatures that are waiting for you to visit them here in Komodo.

Are you ready for your unforgettable experience? See you here soon!